Certificate for Traditional Crafts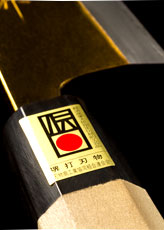 The traditional crafts mark is the symbol mark for the traditional crafts designated by the Ministry of Economy, Trade and Industry, Japan. The products with the traditional crafts mark attached are deemed as the Japanese "traditional crafts" manufactured by traditional craftsman who have passed the designated inspection. Only the crafts fulfilling all the strict conditions imposed can be designated as traditional crafts by the central government.
* The title of "traditional craftsman" can only be held by the craftsman with more than 12 years of practical experience who have passed certification examinations.