Echizen Washi
(handmade Japanese papers manufactured in the former Echizen province)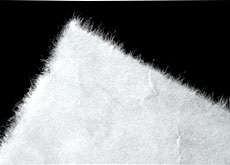 Echizen papers are the traditional handmade papers which have been handed down in Echizen city in Fukui prefecture for 1,500 years. Historian tells us that Echizen Washi when first made, a beautiful princess named her Excellency Kawakami appeared on the Okamoto river located in Echizen city and taught the people there how to make papers. This legend has been passed down as an oral tradition until today, and the legend of the beautiful princess has been enshrined in Okamoto Shrine and has been worshiped as a sole god of paper across the country.
1,300 years ago, Echizen papers were used as the paper for transcribing Buddhist sutras. From around 500 years ago, papers started being used by the warrior class and that led to improved papermaking techniques and increased production volume. There is the historical fact that Echizen papers were used for making currency in the modern era.
Echizen papers are still used as the papers for wood engraving, calligraphic works and paintings as well as cleaning Japanese swords today.
Most of handmade Japanese papers (called "washi" in Japanese) are neutral and not susceptible to degradation, so some Washi originated in more than 1,000 years ago still remain today.
Most of the papers other than "washi" with lots of chemicals used are acidified and endure no more than 100 years.
Besides, the perennial plants cultivated in farms are used as the raw materials for handmade Japanese papers, they do not cause the destruction of forests.