Gold Leaves ( Kanazawa Gold Leaves )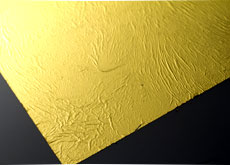 Gold leaves are used on shrines and Buddhist temples as well as national treasures and the work of art.
Due to the fact that 99% of Japanese gold leaves are produced in Kanazawa city in Ishikawa prefecture, it is also called as Kanazawa gold leaves.
typical gold leaves are produced in the following way; to control the extent of spread and the color of gold leaves,gold alloys are created by adding silver and copper into the gold with the content of 95% to 98 %.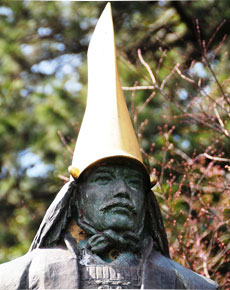 These gold alloys go through the process for manufacturing the sheet metals formed into a thin plate (0.03 mm thick), hammering out thinly on "sumi uchi" paper (0.003 mm thick) and "uchimae" which is the process for beating gold into gold leaf. After these processes are over, gold leaf is hammered out to such thinness between 0.0002 mm and 0.0003 mm thick.
While none of the brilliance of the raw gold is lost at all, gold has been hammered out to get so thin that the other side of gold leaves applied can be seen when you hold it up to the light. For this reason, it is possible to apply gold leaf to materials however complicated the patter and shape might be. Such excellent techniques are reputed to be the crystallization of the best technology of Japan.